Wildlife Sanctuaries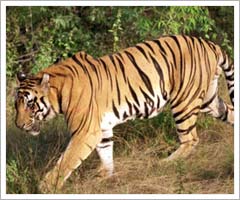 Rajasthan amazingly has a rich wildlife and is the abode of a number of mammals and birds. Its vast size and latitudinal variations above the sea level of 1,700m provides it with varied vegetation. Rajasthan provides semi green forests of Mount Abu to dry grasslands of the desert, and from the dry deciduous thorn forest of Aravali to wetlands of Bharatpur.The princely rulers of the State maintained the best forest tracts as hunting preserves and consequently several jungles with varied flora and fauna have been conserved.  
Some of the popular Rajasthan Wildlife Tours are:
Darrah Wildlife Sanctuary
The Darrah sanctuary is strategically located 50 kms. away from the town of Kota. It is also a reserved place chinkara, hare, desert fox, black buck, wolf and desert cat.
Gajner Wildlife Sanctuary
Gajner Wildlife Sanctuary used to be royal hunting grounds of the Maharaja of Bikaner.
Jaisamand Sanctuary.
Jaisamand sanctuary was established in the year 1957. The Jaisamand Sanctuary is famous for deer, wild boar, panther, antelope and chital.

Keolado Ghana National Park
The National Park is a UNESCO World Heritage Site. This renowned park is the nesting ground of hundreds of varieties of birds.
Mount Abu
The sanctuary located in Mount is spread over the stunning Aravalli range of mountains. Mount Abu is Rajasthan's only hill station and in the days of yore it used to be the summer retreat of Rajasthan's royalty.
Ranthambore National Park
Ranthambore is one of the most picturesque national parks in India with the backdrop of an indomitable fort located on a hill top while the park is spread over the Aravalli foothills.
Sariska National Park
Sariska National Park used to be the hunting ground of the Maharaja of Alwar. It was declared a National Park in 1955. The park is spread over an area of 479 sq. Kms.