Sirohi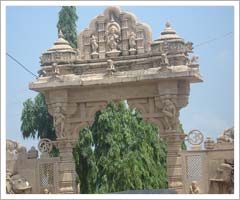 Sirohi means "Self Respect is must important even if head may be detached" in other words. A Rajput of Sirohi may die for self 'Self –Respect.'
Sirohi, a native state of India. The south and south-east part of the territory is mountainous and rugged, containing the lofty Mount Abu, an isolated mass of granite rock, culminating in a cluster of hills, enclosing several valleys surrounded by rocky ridges, like great hollows. On both sides of the Aravalis the country is intersected with numerous water channels, which run with considerable force and volume during the height of the rainy season, but are dry for the greater part of the year. The only river of any importance is the Western Banas. A large portion of the state is covered with dense jungle, in which wild animals, including the tiger, bear and leopard, abound. Many splendid ruins bear witness to the former prosperity and civilization of the country. The climate is on the whole dry; in the south and east there is usually a fair amount of rain.
During the early years of the 19th century, Sirohi suffered much from wars with Jodhpur and the wild Mina hill tribes. The protection of the British was sought in 1817; the pretensions of Jodhpur to suzerainty over Sirohi were disallowed, and in 1823 a treaty was concluded with the British government. For services rendered during the Mutiny of 1857 the chief received a remission of half his tribute. The chief, whose title is maharao, is a Deora Rajput of the Chauhan clan, and claims descent from the last Hindu king of Delhi. The state is traversed by the Rajputana railway.




The Name Sirohi had been derived by "Siranwa" hills on the Western Slope of which it stands. Colonel Tod in his book "Travels in Western India" has suggested that the names of the territory might have derived from its position at the head (Sir) of the desert (Rohi), Sirohi also named as "Sword" and this had led some people to believe that this State of brave Deora Chauhans received it present name due to its wide spread fame of its Swords.




In 1405, Rao Sobha Ji (Sixth in descent from Rao Deoraj, the Progenitor of the Deora Clan of Chauhans) founded a town Shivpuri on eastern slope of Siranwa hill which is called KHUBA. A relic of the old city is found there and a pivious place of Virji is still a place of worship.
Sirohi district is full of minerals; therefore the industries based on minerals were developed rapidly. Medium scale industries produce tiles and slabs of cement, marble and granites.


The main crops of Sirohi are millets, pulses, sesame and red chillies.