Shekhawati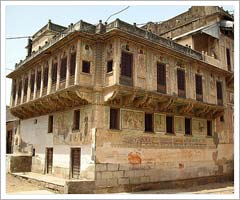 The semi-desert region of Shekhwati is popularly known as the 'open-air art gallery' of Rajasthan. Shekhawati is unique as no-where else in the world there is such a hundreds of havelis, temples, cenotaphs, wells and forts.
Even today, the entire region of Shekhawati is known for its exquisite frescoes. No other region, anywhere in the world, has such a large concentration of frescoes. This is even more interesting as the landscape here is totally bare- flat and colourless.
Small town dot some of the most elaborate havelis, step wells, and temples. While travelling around this region, you stagger across some truly awe-inspiring treasures.
Most of the villages of Shekhawati have kept their rustic charm intact and a drive around these painted towns can be a wonderful experience. While the painted mansions are certainly the focal point here, don't miss the unique architectural style of the havelis. They are marvels of goods design. Several courtyards and inner chambers were designed to keep the women folk safe and comfortable but segregated. From the outside these havelies looked like huge blocks but were so inventively planned that they provided ample protection from the harsh summers. Other monuments to look out for are the step wells, the four-pillared wells, temples.

Mahaveer Prasad Goenka Haveli built in 1885 and is believed to have some of the best frescos in perfect match of colour and design. Geori Shankar Haveli is a good example of mirrored mosaic ceiling. Haveli Nadine is a Haveli purchased by a French artist Nadine Le Prince. It retains some good painting is shades mostly in red and blue.
Rajasthan is famous as the home of the Rajput warriors, valiant and well versed with all the aspects of medieval warfare. Horse riding was the most important part of the lives of the people of Rajasthan in those days. Horses were the only means of fast transport, and they proved to be faithful companions during times of crises, as stories about Rana Pratap and his famous horse, Chetak prove. This region has been producing exceptional horses since those times. Today, wars are a thing of the past, but the tradition of horse riding continues with the many desert horse safaris that have become an important aspect of tours in Rajasthan. The semi parched region of Shekhawati is one of the most beautiful areas of Rajasthan with its lofty sand dunes and splendid monuments. The Shekhawati Horse Safari is one of the best ways of exploring Rajasthan in all its glory.