Sawai Madhopur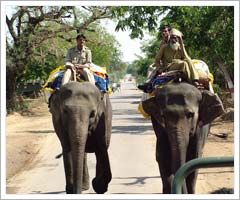 Sawai Madhopur is an imperative town with its own history and folklore. It is also the entry point to Ranthambore. Ranthambore has been a bystander to the rise and fall of many rulers and a series of battle scenes. Miscellany of marvellous architectural monuments, ponds and lakes attract a number of tourists. There are various places of historical interest inside the fort. The Ganesha temple is a major attraction of the Fort. The region around Sawai Madhopur is thick with leftovers of its past history. Walls, wells, mosques and hunting lodges adorn the lush rolling hills of the Vindhyas and the Aravalis.It was built in 1930 by Maharaja Sawai Man Singh 11 of Jaipur as a hunting lodge for his hunting trips to the jungles of Ranthambore which were the favourite hunting grounds of the Royal family of Jaipur. The highlight of the trip to Sawai Madhopur is the visit to the Ranthambore National Park, which is one of the finest habitats in the world for the Tigers.




Sawai Madhopur's novel name was simply Madhopur, until Raja Jai Singh II met the Mughal emperor Aurangzeb. According to legend, Aurangzeb took on a military campaign in the Deccan and required Jai Singh's help in expanding his empire. Jai Singh conveniently declined. At this time Rajasthan was being ruled by the Emperor and Madhopur was directly under Delhi rule, the 14 year old Jai Singh being merely Aurangzeb's vassal. After the battle Aurangzeb summoned the Rajput to Delhi to be tried for disobeying his royal command.




While the trial was in progress and just as the Emperor was about to have Jai Singh sent to the gibbet, Aurangzeb held the teenaged Raja's hand. Upon this Jai Singh declared that since the Emperor had taken his hand as a groom takes his wife's, he was under the direct protection of the Emperor. Jai Singh's wit impressed Aurangzeb so much that he forgave the little king for his idiocy and conferred upon him the title of Sawai (one and a quarter). Since then the rulers of Jaipur had flown two flags – one full and the other quarter.




Ranthambore has been a witness to the rise and fall of many rulers and a series of battle scenes. In the 13th century A.D. Govinda, the grandson of Prithviraj Chauhan took over the reign of the land. Later his successor Vagabhatta beautified the city and built a striking temple at Jhain.


Sawai Madhopur, along with other nearby villages is quiet well known for its Bandhani and Lahariya, block printed textiles, silver jewellery, traditional furniture, wood, metal handicrafts, carpets as well as its exclusive toys, ethnic ornaments and costumes.