Mount Abu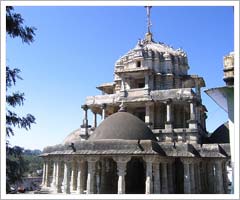 The only hill station in Rajasthan, Mount Abu is more than just a summer retreat. Its spectacular assortment of beautiful Dilwara Jain Temples, dating back 11th- 13th centuries, make it a popular pilgrimage centre. 'Abu' according to a legend stands for the son of Himalaya, deriving its name from Arbuada, the powerful serpent who rescued Nandi, the consecrated bull of Lord Shiva, from an abyss.




Mount Abu is a green oasis in the barren deserts cape that's Rajasthan. Positioned at the southern tip of the Aravali range the hill retreat owes its cool climate to its rich vegetation covering the entire hillside that includes coniferous trees and flowering shrubs. The road leading to Mount Abu is a curved one characterized by scorched region dotted with huge rocks in weird shapes and high velocity winds..
Mt Abu literally means the 'Hill of Wisdom'. The Nakki Lake is in the center of the hill station.


Between the Himalayas and the Nilgiri mountain ranges, the highest place (about 1700 MSL) is Mt. Abu is not only a sanctuary but also a fascinating hill station of Rajasthan. It is a living example of an inextricable mix of religion and tourism. The sanctuary spread over 288 kms is subjugated by subtropical evergreen forests known for its calm invigorating air, fully charged with the jasmine.