Art and Crafts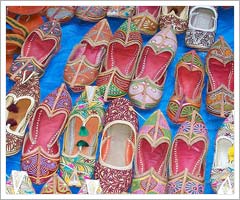 Rajasthan is among the richest states in the country as far as the field of arts and crafts is concerned. May be it was a result of the war-like lifestyle of the people of Rajasthan which sharpened the creative senses, artistic skills and inspired Rajasthan is them to create the most opulent and richest of treasures. Stone, clay, leather, wood, ivory, lac, glass, brass, silver, gold and textiles were given the most brilliant forms.
For women there was infinite variety tie and dye fabrics, embroidered garments, enamel jewellery inlayed with precious and semi-precious stones, leather jootis. They put their lives indoors to very good use by decorating their surroundings on the walls of their mud-huts.  Also the women folk made intricate patterns.




Rajasthan is rich in jewellery, each area having its own unique style. Some of the traditional designs are rakhri, tirnaniyan, bala, bajuband, gajra, gokhru, jod, etc. Tribal women wear heavy, simply crafted jewellery and seem to carry the weight (almost up to five kgs) without much discomfort.  Men too wear their share of ornaments in the form of chokers and earrings.




Ivory: The ivory bangles that most Rajasthani women wear are considered auspicious. Ivory is also inlaid and shaped into intricate items of great beauty. Miniature paintings were also executed on ivory.




Lac and Glass: Lac bangles are made in bright colours and sometimes inlaid with glass. Other decorative and functional items are also available.




Paintings: Today's families engaged in miniature paintings exist in Manipur, Jodhpur, Nathwara and Kishangarh and continue to paint fine works of art on handmade paper. The ancient tradition of scroll paintings survives in Rajasthan as Phads and Pcihwais in bold vigorous lines and bright primary colours displaying much of the ancient Indian tradition of painting.

Marble: Marble from Rajasthan has been used for construction of famous monuments like Taj Mahal. Marble objects range from decorative plates to boxes and animal figures. White marble is painted, sometime with real gold. Even miniature paintings are done on marble. Jaipur is the main centre for exquisite marble objects




Ivory: Rajasthan has its main ivory carving centres at Udaipur, Bharatpur and Jaipur from where master ivory carvers were once favoured by the royal courts. While Jaipur was famous for its carved ivory, Jodhpur specialized in ivory bangles. The bangles were worn to cover the whole arm and they decreased in size from just below the shoulder to the wrist. The Bikaner Palace is better known and prominent for its artistic ivory inlaid doors than the palace itself. Carved ivory artifacts can be purchased in and around Jaipur but the export of ivory in any form from India is strictly prohibited.




Pottery: Potters pottering about on their wheel and fashioning all kinds of pitchers and earthenware are a common sight in India. While pottery for daily use (like gharas and surahis) is made all over Rajasthan, certain areas specializing in a particular type. Jaipur is known for its regal blue-glazed pottery introduced in India by early Muslim rulers. The blue varnish was initially used to liven up the visual appeal of mosques, tombs and palaces – one can spot the extensive use of these tiles in the old city of Jaipur. Another hotspot is the village of Molela, 40km north of Udaipur, which excels in terracotta pottery, sculpted plaques and icons of Rajput heroes and Hindu deities. An array of terracotta articles are produced in Rajasthan: paper-thin pottery, painted pottery.




Puppets: Kathputlis or wooden puppets are a common and popular form of entertainment in the villages of Rajasthan. The puppeteer is the storyteller who unwinds a folk tale or an episode from the Hindu epics - the Ramayana or the Mahabharata - along with the adroit interplay of various puppets, each signifying a character in the tale. Unfortunately, puppet theatre in India is under serious threat from television and cinema.




Metalware: The metal ware of Rajasthan comprises of artistic, enameled and engraved silverware and metal ware. Popular creations in silver include wine cups, silver imprinted decorative boxes, human figures, cigarette lighter cases and photo frames.
Jaipur is famous for engraved brassware which is usually enameled.




Sandalwood


Carving: Fragrant and aesthetic, sandalwood carvings come in a wide range of themes. The articles range from key chains and paper knives to decorative figures.