Chittaurgarh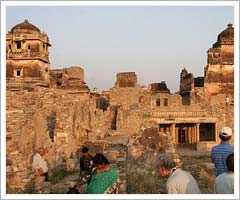 A standing sentinel to the courage and valour of Chittaurgarh, it stands tall over a 180 meter high hillock, covering a colossal area of 700 acres. The fort is believed to have been built by the Maurya rulers in 7th century AD.
Chittaurgarh History
Alauddin Khilji was the first to rucksack Chittaur in 1303 A.D. overpowered by a passionate desire to possess the regal beauty, queen Padmini. Legend has it, that he saw her face in the reflection of a mirror and was struck by her mesmerizing beauty. But the noble queen preferred death to dishonour.




In 1533 A.D., during the rule of Bikramjeet, came the second attack from Bahadur Shah, the Sultan of Gujarat. Once again Jauhar was led by Rani Karanavati, a Bundi princess. Her toddler son, Udai Singh was smuggled out of Chittaur to Bundi who survived to inherit the throne of the bastion. He learnt from his traumatic childhood that discretion is preferred to valour. So in, 1567 A.D. when the Mughal Emperor invaded Chittaur, Udai Singh fled to establish a new Capital, Udaipur-a beautiful lake city, leaving behind Chittaur to be defended by two 16 year old heroes, Jaimal of Bednore and Patta of Kelwa. These young men displayed true Rajput gallantry and died. Immediately, thereafter Akbar razed the fort to wreckage. Chittaur was never inhabited again but it always asserted the heroic spirit of Rajput warriors.


The fort is located on a hill that dominates the modern township of Chittor. It is a fine example of the Rajput style of architecture. The fort of Chittor is believed to have been the capital of the Gahlot and Sisodia kings who ruled Mewar from the eighth to the sixteenth century AD. The fort is named after Chittrangad Mauraya. The fort has witnessed three vicious sieges and each time her defenders, demonstrating true Rajputana pride, fought valiantly against the enemies. The magnificent fort rises 150 m above the surrounding region and runs to an approximate length of 3 km covering an area of 60 acres and peripheral length of 13 km. The Chittaurgarh Fort is one of the best-known forts in Rajasthan, famous for its impregnability. The ruins of this "mother of all forts" are a vivid aide memoir of the glorious past when 'death before dishonour' was a way of life. evoke images of Every bloody stone here is sanctified and each one screams out loud, telling you stories about the great people who lived here. The ruins of the many magnificent monuments within the fort remind one of innumerable deeds of bravery and sacrifice.