Dungarpur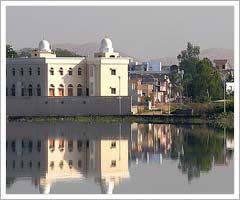 Dungarpur district is the throttlehold of the Bheels, a tribe whose history of occupancy in the Aravalli range is said to date back to 4000 BC. Founded in 1197, the rulers of Dungarpur claim descent from the Rajput house of Mewar. The first rulers of Dungarpur were Kunwar Mahap and his descendants who dwelled in the town of Galiankot where their ruined castle still stands. Towards the end of the 12th century, Samant Singh, the eldest son of the ruler of Mewar, had to leave Mewar in errand of his younger brother Kumar Singh. Samant Singh drifted into the hilly area of Bagar and, within the next century, Samant Singh's successors controlled the whole province of Bagar. Rawal Udai Singh of Bagar was killed at the battle of Khanua in 1527, fighting for Mewar against Mughal Emperor Babur. His territory was thereafter divided between his two sons, forming two separate states. Prithvi Raj remained in Dungarpur while his brother Jagmal Singh became independent ruler of Banswara.
It is a cache trove of discriminating flora and fauna. One can spot mango, teak and date trees among an array of breathtaking shrubbery. On a wildlife safari, clicking won't stop as you are sure to encounter mongooses, jackals, hyenas and monkeys among a host of others. The land of Som and Mahi Rivers, the imperial Dungarpur is also a place of numerous cuckoos, partridges and eagles. Several migrant avian also visit the fantastic Dungarpur.
The legend has it that Dungarpur once used to be a Bhil Pal or the village of Dungaria, a Bhil chief. It is from him that the city got its name. It is believed that Rawal Veer Singh assassinated Dungaria and founded the city of Dungarpur (the City of Hills) in 1282.

Baneshwar Fair, Dungarpur
A religious festival with simple & traditional rituals. Picturesque rhythms invoke up the tribal cultural identity of the Bhils of Rajasthan, Gujarat & M.P.
Baneshwar means the master of the delta and this name was given to the Lord Shiva.
The fair resounds with the gaiety of traditional folk songs, folk dances, Raslila, animal show, magic shows acrobatic feats.