Festivals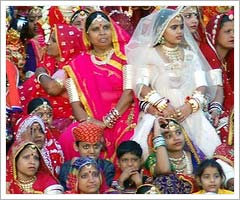 Jaipur, capital city of Rajasthan celebrates Teej, Elephant Festival, and Gangaur with full vigor and joy. Teej is a festival to mark the initiation of monsoon. On this occasion you can see processions in the city. It is essentially a women's festival, it is interesting to watch them enjoying in groups and at various bazaars where they turn up to shop in all their finery. The Elephant festival is same as the festival of Holi; this is a great occasion for the visitor to watch several elephant sports. This is a festival of insignia. On this day a show is organized with the elephants turning out in their paramount ceremonial dress. The Gangaur festival is devoted to Goddess Parvati, the ensemble of Lord Shiva. It is time for young girls to dress up in their finery and pray for grooms of their choice while the married women pray for the well being of their husbands.
The golden city of Jaisalmer has a charm of its own; it is a journey into the heart of the desert. The festivities of the Desert Festival adorn the charm of Jaisalmer. The Baneshwar Fair is a religious festival with simple and traditional rituals. This fair is the centre of attraction of a large number of tribal people from the neighboring states of Madhya Pradesh and Gujarat who join in for the offering prayers to Lord Shiva. The Summer Festival of Mount Abu and Marwar Festival of Jodhpur are famous for folk dances and music. The Pushkar Fair attracts many tourists with its bazaars, auctions, and music and sport events
Desert festival in Jaisalmer
The city of Jaisalmer comes alive every year during January - February, with the enactment of the Desert Festival. The exhibition of performing arts on the stretch of golden sands is a breathtaking sight at Sam. Turban tying competition and camel races are the other exciting events. Grand Finale takes place near Sam Dune at Dune Safari Camp.

Pushkar Fair
The Pushkar fair is by far the largest fair of cattle and other domesticated animals. It takes place in October - November. Along with the massive exhibition and trade of domesticated animals, animal races and indulgence in folk dances and music are also important elements. This festival of color and music is truly exhilarating and unique.
Nagaur Fair
Local sports, folk performances, beautifully decorated animals, camel races and invigorating music are all part of the Nagaur fair, held in February.
Gangaur Festival
Women dress up in their best attires and treasured jewelry and pray for the long lives of their husbands. Held in March, this eighteen-day festival, ends with in a grand procession that marks the arrival of Lord Shiva unite with his wife, Goddess Parvati.
Teej Festival
This fun-filled festival marks the arrival of the monsoons to the arid land of Rajasthan. Women dress up in colorful clothes and attractive jewelry. Music, sweets, visits to the bazaar and the preparation of special dishes are important aspects of the festival.