Jaigarh Fort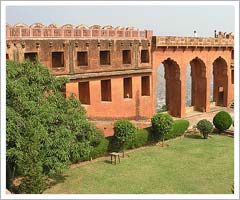 Jaigarh Fort is considered as one of the spectacular forts in India. This Fort is on top of the hill, while Amer Fort is at the bottom.Jaigarh Fort is located on the top of the hill, by the name of Hill of Eagles. Jaigarh Fort is also known as the 'Victory Fort', located at a comfortable distance of 15 kms from Jaipur.
Jaigarh Fort was made to tighten the security of Jaipur and Amber. Due to this fact, one may not find this fort as artistic as other forts and palaces, but it certainly has its own charm. The Fort has many structures of medieval India, which are worth exploring. It has several palaces, granary, well-planned cannon foundry, several temples and a tall tower. Jaigarh.
The highlight of this Fort is the massive cannon by the name of Jaivan, which was made in the same production house. Jaivan, the cannon, is believed to be the largest cannon in the World and the main attraction of the Jaigarh Fort. The Fort discloses the mastery over architecture of the former age. The Fort has many wide water channels, which were a part of a rainwater harvesting system. The Fort also has three underground tanks, the largest one of which can store 60, 00,000 gallons of water.
In the Fort there is a museum which has a remarkable collection of coins, puppets and photographs of the royal kings, buildings, processions and even a circular pack of cards besides many other remnants of the past. The armory has several swords, shields, guns, muskets and even a 50 kg cannon ball, which would take you back to the gallantry days of the Kings. One can also see a few weather beaten sedan chairs and drums at the Shubhat Niwas or the Meeting Hall of Warriors. Above all, the Fort offers a wonderful view of the city below. Jaigarh Fort is a perfect destination for a traveller, interested in the majestic past of India.