Ajmer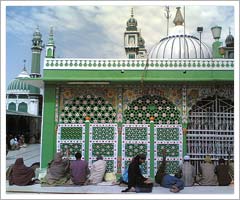 The city of Ajmer Sharif in Rajasthan, India lies to the south west of Jaipur. Ajmer is mostly famous as a pilgrimage. Both Hindus as well as Muslims look upon this city with great veneration. The most famous pilgrim center in the city is the Dargah (memorial) of the great Sufi saint Khwaja Moin-ud-din Chisti. He came from Persia and spent his whole life to improve the lives of the destitute and subjugated communities.




In 1193, after Prithviraj Chauhan had lost Ajmer to Sultan Mohammed of Ghori, the Persian saint, Khwaja Moinuddin Chisti, who had come with Ghori, settled and preached here.




Khwaja Moin-ud-din Chisti, who died in Ajmer in 1236, was buried in a small brick tomb that is today bounded by a large marble complex known as the Dhargah. The access to the complex is the Dhargah Bazaar, through a high gateway that leads into the first courtyard. The tomb surrounded by silver railings is enshrined in an arched marble chamber in the centre of the second courtyard near the magnificent mosque of Shah Jahan.


The shrine is considered to be a place of wish fulfillment for those who pray with stanch and pure hearts. It is said that Emperor Akbar sought blessings for his son at the Dargah.