Jaisalmer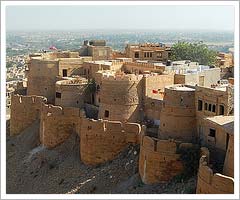 Jaisalmer is a place worth visiting. The golden ray of the setting sun draws a blissful picture on the sands of Jaisalmer. The magnificent wood and stone carved mansions and buildings display the love of the Rajput towards the fine arts.
The golden city of Jaisalmer, which lies audaciously as the western sentinel, was founded by Bhatti Rajput Rawal Jaisal in 1156. The history of Jaisalmer also discloses the courage and determination of the Rajput. The city used to be a major trade center as it was the trade route of the western countries to India.
Rising from the heart of the Thar Desert like a golden delusion is the city of Jaisalmer. A commanding fort engraved in yellow sandstone stands, with its entire awesome splendor, dominating the amber-hued city.

Jaisalmer too has its own glorious past to brag about. History of Jaisalmer draws heavily from the history of the Rajputana. Legends go by that he did it on the request of a local recluse named Eesaal. The Raja chose Trikut hill as the new site for his fort. This was because he thought that his previous abode at Luderwa (16 km from present Jaisalmer) was susceptible towards possible enemy assault.
Visiting Jaisalmer itself means a visit to the Jaisalmer Fort. This fort is the major and the most beautiful landmark of the city. The fort is occupied by shops, stalls, and a number of other business concerns. This fort accommodates a section of the city's population.