Camel and Elephant Safari
Camel Safari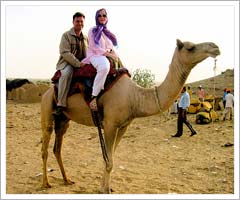 Camel safaris are the new, exciting way of casting one's footprint across the shifting sands of Rajasthan. The camels are back traversing the sands of the desert accompanied by bands of travellers for whom the escape into a boondocks where literally nothing but sand makes up the horizon. It is an exceptional opportunity to escape from the tamed world tone that has rough edges, and takes you squarely into the lap of nature.




The duration of a safari can be from 4 -15 days.Thar, an unending ocean of sand, dotted with dunes and shrubs, with its own distinctive wildlife. During the camel caravan one can encounter the warmth of hospitable villagers and ruins of historic forts and palaces of Rajasthan.




Wildlife Safari

If you want to spot a Tiger in his own natural habitat you should visit the world famous Ranthambhor National Park in Rajasthan. Tiger Safari is exclusively offered for tracking Tigers. Apart from Tigers you can also spot Sloth Bear, Wild Boar, Chinkara, Porcupines and Jackals, Leopard, Jungle Cat, Marsh Crocodile, Sambhar, Chital, Nilgai, Gazelles, Boars, Mongoose, Indian Hare, Monitor Lizards and a large number of birds.
Sariska Tiger Sanctuary - It is situated in the huge and thickly wooded reserve cradled in the scenic valley of the Aravali. The park is noted for its population of rare breed of tigers, leopard, sambhar, nilgai, wild dog, and chinkaras.


If you are a bird lover, then there can't be a better place than the Bharatpur Bird Sanctuary, Rajasthan. One of the finest bird parks in the world. Bharatpur Bird Sanctuary supports not only the indigenous water birds but also a large number of exotic migratory birds from Afghanistan, Central Asia, Tibet as well as Siberian Cranes from Arctic.