Mandawa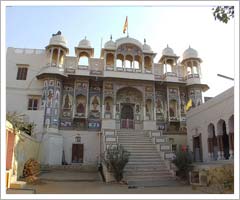 Mandawa is located in the Shekhawati region of Rajasthan. Renowned for its frescoed Havelis and Palaces.
Founded in the mid 18th century Manawa is dominated by a daunting illusion like fort now a Heritage Hotel that is maintained in the classic medieval theme with the modern luxuries. The pergola is painted with interesting forms of paintings of Lord Krishna and his cowherds. The extensive architecture houses a different theme in different wings. The spacious rooms are adorned by intricate interior wall paintings and mirror work with open terrace that offers a panoramic view of the whole town.

The semi desert region of Mandawa is colourful fantasy having a fascination uniquely of its own. "The open air art gallery", as it is popularly called, is famous for its glut of painted havelis.  This place is also known by the name of Shekhawati. It has blossomed into colourful cornucopia of art and life for almost two centuries from 1750 AD to 1930 AD.
Besides the cenotaphs, wells, forts and temples, the Majority of frescoes are painted on the havelis. This magnificent havelis or mansions, built by rich merchants of the region, display a unique architectural style that evolved around the courtyards to ensure safety and privacy of the women folk and protection from the heat of the long and harsh summers. The havelis, painted predominantly in blue, maroon, yellow, green and indigo have beautiful wall paintings that embellish their walls. The earlier wall paintings (1830 AD -1930 AD) were largely based on true mythological themes, depicting local legends, animals, portraits, hunting and wrestling scenes and a glimpse of everyday life.