Havelis of Jaisalmer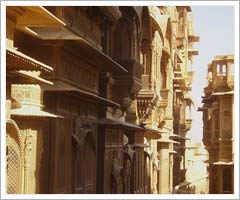 The stunning mansions of Jaisalmer's wealthy merchants are known as 'havelis'. Their convoluted homes are engraved out in sandstone with infinite details and pains, carved and pieced together in different patterns. There is a perfect harmony that characterizes them and they are a treat for the eyes of the beholder.
There is no dearth of Havelis in Jaisalmer as the place has witnessed many wazirs and Landlords. The most famous among these is Patwon Ji ki Haveli. This Haveli was the first in Jaisalmer that is why it has greater significance. This Haveli became the pioneer of the constructions in Jaisalmer. Patwon Ji ki Haveli is actually the collection of five small Havelis.
Nathmal ki Haveli was built in the late 19th century. Its highlights are yellow sandstone elephants that stand majestically at its entrance and the intricately carved front door. It seems that the jewelers instead of the stone-carvers did the so-minute carvings of the building.
Salim Singh ki Haveli was built about 300 years ago and a part of this is still being used as residence. It was owned by Salim Singh and has an arched roof with superb carved brackets in the form of peacocks. It is worth a lengthy look and admiration of the tourists who go on the town to see this pride of Jaisalmer architecture, which is now a part of the national heritage. Situated at the eastern end of the city, it seems to have sprung out of Arabian Nights, with its top blossoming like a wild flower.