Hawa Mahal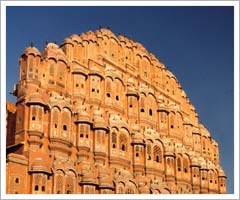 Jaipur's landmark building, the Hawa Mahal or the Wind Palace is a multi layered palace, built by Sawai Pratap Singh (grand son of Sawai Jai Singh and son of Sawai Madho Singh) in 1799 AD.
Hawa Mahal is a major landmark and a famous tourist attraction of Jaipur. The Palace offers a beautiful sight to behold. The splendid Rajputana architecture Hawa Mahal, still speaks the glory of the royal family. However, one can also find a foretaste of Mughal architecture, which is blended perfectly to make it different from others. The literal meaning of Hawa Mahal is Palace of Wind.
The Hawa Mahal lives up to its name as one climbs up to the balconies and is almost swept away by the cool breeze. The royal ladies not only enjoyed the view but also did so in great comfort and style. Today, Hawa Mahal provides the visitor with some excellent views of the city and a bird's eye view of the Jantar Mantar (a medieval observatory and an important tourist place in Jaipur). The best time to view Hawa Mahal is sunrise where one can glimpse the early morning sun and is bathed in its golden light making it glow like a gem.
This is the most easily recalled landmarks of Jaipur and is also its icon. Located in the city Palace it is best viewed from the outside for the palace is really a frontage. This five-storey building overlooking the busy bazaar street is an astonishing example of Rajput architecture and artistry with its pink delicately honeycombed 953 sandstone windows known as 'jharokhas'. It was originally built for the ladies of the royal household to watch everyday life and processions in the city from their veiled comfort.