Udaipur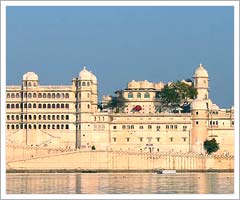 The city of sunup, Udaipur is a lovely land around the cerulean water lake, hemmed in by the thriving hills of the Aravalis. A vision in white drenched in romance and beauty, Udaipur is a fascinating blend of sights, sound and experiences and inspiration for the imagination of poets, painters and writers.




Its kaleidoscope of fairy-tale palaces, lakes, temples, gardens and narrow lanes speckled with stalls, carry the savor of a heroic past, epitomizing valour and chivalry. Their reflection in the serene water of the Lake Pichhola is an alluring sight.




On the fringe of the great Indian Desert State of Rajasthan is the City of Lakes – Udaipur. Founded in 1599 by Maharana Udai Singh, son of the legendary Maharana Pratap of Mewar; this "Venice of the East' is a jewel tucked away in the Aravali hills. Its palaces and forts, interesting bazaars put Udaipur on the "must see" map of tourists to India. Its palaces in the lakes have been the location for many films and fashion magazines and a destination for honeymooners. Udaipur's palaces speak of a by-gone age when gallantry was above life and royalty and culture flowered.




A series of canals connecting the several artificial lakes of Udaipur have dubbed it the Venice of the East. These beautiful lakes surround majestic palaces of marble and sandstone festooned with amber, coloured glass and insipid jade built in the seventeenth century. Courtyards, fountains, towers and Japanese styled gardens lend the palaces a truly majestic plea.


One legend claims that he chose the present location of Udaipur for the capital after a sadhu, or itinerant holy man, told him that if he built his capital on the edge of Lake Pichola, it would never be captured. It is likely that the calculated advantages of the surrounding topography influenced his decision. Raised in the surrounding Aravali hills, Maharana Udai Singh was familiar with this region. His ancestor and the founder of the Sisodia dynasty of Mewar, Bopped Rawal, had lived here eight centuries earlier.