City Palace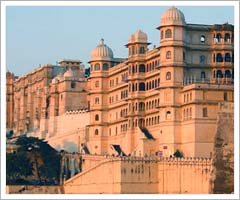 The city palace was built by Raja Sawai Jai Singh in Jaipur and the royal family still uses a section of the palace. The exquisite 19th century Mubarak Mahal or The Palace of Reception which used to serve as the reception area of royal guests was built by Madho Singh and is now converted into museum which shows cases a mystifying array of royal costumes of the enigmatic prince Sawai Madho Singh. Apart from the royal costumes, on display at the museum are some intriguing 15th century royal arsenals that have been very well preserved.
The magnificent Chandra Mahal which is all of seven storied is now the residence of the present Maharaja of Jaipur. Needless to say, the palace with its discriminating paintings, flower - patterned décor, parapets that dazzle with mirrors and intricately carved ceilings makes this palace an enthralling dwelling. Each of the seven stories serves a distinctive purpose and is appropriately named. For instance, the Sukh Niwas or the hall of pleasure serves as the drawing cum dining room of the Maharaja while the Shova Niwas or the hall of beauty is patent by its mirror coated parapets which dazzle with a million rays when lit up.
The City Palace of Udaipur is one of the most remarkable constructions of the Rajput rulers of Rajasthan. Located in the heart of the city of Udaipur and towering over the Lake Pichola, the City Palace abidingly infuses a sense of admiration in the hearts of its onlookers. It is the standing testimony of Rajput passion for art and architecture despite the fact that the exterior is not as elegant as the interiors.
The original construction of the palace was pioneered by Maharana Udai Singh of the Sisodia kinfolk soon after he founded the city of Udaipur.  Infact, the entire City Palace complex exudes a beautiful harmony and uniformity in its construction .City Palace's architecture reflects a wonderful unify of the European and Chinese architecture. The palaces, courtyards and gardens inside the palace have all a distinctive charm of their own. Built of granite and marble, the City Palace is entered through the Hati Pol or the Elephant Gate. The Bada Pol and the Tripoli Gate follow soon. The Tripoli a Gate is the same place where the kings weighed themselves in gold and silver which was later distributed amongst the common people. This was a very popular customs in those days. The MOR Chawk is the peacock square and gains its name from the vivid blue mosaic in glass of a peacock that decorates the walls.