Osian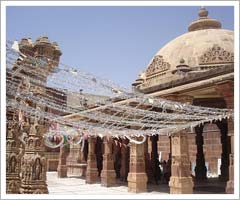 Ossian is located at the periphery of the Thar Desert, 65 kms North West of Jodhpur. Though Ossian does not figure in the regular tourist guides of India, yet this once prosperous city, boasts of more than 100 Hindu and Jain temples dating back to the medieval age. Legend has it that the town was founded by Utpaladeva, a Rajput prince of the Pratihara Dynasty. It was then known as Ukesha or Upkeshapur.




The temples here are among the earliest of all medieval temples of Rajasthan. Remains of several temples blotch the present day Ossian. The earlier temples are almost like miniature shrines, some only eight feet in height. Among these intricately carved red sandstone edifices, three are dedicated to Harihara- or the union of Vishnu and Shiva. Profusely carved from their raising plinths, pillars and right up to the peak of the spires, these temples are considered architectural masterpieces even by foreign scholars such as Percy Brown, James Burgess and Herman Goetz.




Among the oldest group of temples stands the Sun Temple, which was built in 10th century. They are often compared to the carvings of the Sun Temple of Konark. According to records, right in the middle of the town stood another magnificent Sun temple. This, and a score other beautiful shrines were afterward destroyed during the Turkish and Afghan invasions of India. Out of the more than 100 temples this town once had, barely 16 stands today. Even these have been ravaged by time.




The one temple that remains vibrant is the shrine of Sachiyamata on a nearby mound. Built in 1234 AD, this temple was dedicated to Durga or Mahisasura Mardini. Today it has become a very important shrine for Jains.


Lord Shiva is often depicted in Hindu mythology as a Maha Yogi. The temples walls have a number of paintings depicting him in various yogic postures. This presents a wonderful sight to the eyes and takes you back to the past.