Ziro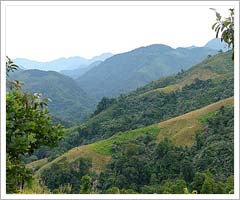 Ziro in Arunachal Pradesh is located at an altitude of 5754 ft. (1,780m) from the sea level. This high town is almost a level valley enveloped on all sides by pine clad low stooping hills. Ziro is the land of Apatani tribals. Ziro is a small pictorial destination with Pine and Bamboo groves, villages, a craft centre and Tarin Fish Farm, which is located at a high altitude and also to see, is the aboriginal method of rice cultivation.




Ziro in Arunachal Pradesh is also called Apatani Plateau, which is famous for Paddy-cum-Fish culture. This place also encompasses of the quietly flowing rivers of Subansiri, Nishi, Apatani, Dafla, and Miri. Ziro is an ideal place for trekking and hiking.




The River Kele flows through the valley. The Tarin Fish Farm is run by the local people whose main livelihood is agriculture and fishing. The handicrafts and colourful shawls are woven by the tribals.


The Apatani had a democratic system of running the society. The village council was known as the Bulyang. They are of Tibetan origin; their language belongs to the Tibeto-Burman family. Most Apatanis are loyal followers of the Donyi-Polo faith, who pray to an assortment of spirits and souls for blessing. When a misfortune occurs, they believe that it is caused by certain spirits, and thus they make conciliation sacrifices of chickens and mithuns. The dress of the Apatanis is elaborate and colorful, yet simple in style.




Tattooing and the stuffing of large nose plugs were once popular among the women. This practice started because the women wanted to look unattractive to males from neighboring tribes). While travelling, visit some Nishi Tribal Villages (the largest tribes' population wise) in Arunachal Pradesh

Ziro is the collection of some of the big villages of Apatani People. The important ones among these are Hija, Hong and Hari which have the maximum population of the Apatani people in Ziro. Apart from the Apatani Tribe, Ziro is very rich in terms of natural beauty.


Ziro is one of the prettiest hill-stations of Arunachal Pradesh. It is the abode of the Apatami Tribe and is delimited by pine and bamboo forests, interspersed by terraced paddy fields.