Bomdila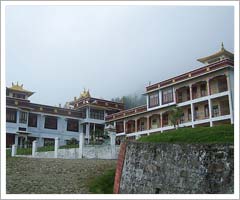 Bomdila is situated at a height above sea level of 8500 feet in the north eastern state of Arunachal Pradesh in India. Hooked in the mighty mountainous ranges of Himalaya, Bomdila in Arunachal Pradesh is a bliss, with its apple orchards, Buddhist gomphas and a magnificent view of the Kameng Valley. There are also some scenic views of Himalayan landscapes and snow wrapped mountains. Bomdila is an ideal place for trekking & hiking and also an idyllic place in summer.




In Bomdila one can stopover the Craft Centre, producing very fine carpets of colourful designs, masks and the Buddhist monasteries. The languages spoken here are Monpa, Sherdukpen, Miji, Aka, Hindi, Assamese, and English.




The Bharali River rushes down the mountains, providing some fabulous angling opportunities. Tipi, an orchid conservation centre further uphill, is a glasshouse with a fantastic collection of exotic orchid species and hybrids. Bomdila is at the hub of hiking activity in the Kameng region.




Bomdila, like other towns in the area, has a strong Buddhist and Tibetan power. There are a fair number of gompas here and the town has old-fashioned little eating-joints where you can relish traditional Tibetan cuisine plus the all time favourite Momos and Thoopas.


Bomdila Monastery, it owes its initiation to the 12th reincarnate of Tsona Gontse Rinpoche, who got this monastery built before his death in the year 1966. The monastery of Bomdila is a replication of the Tsona Gontse Monastery, located at Tsona in South Tibet. The foremost prayer hall of the monastery was added later on by the 13th reincarnate of Tsona Gontse Rinpoche. This hall was later on consecrated by His Holiness, the 14th Dalai Lama, in October 1997.

Apart from the prayer hall, Bomdila Monastery also comprises of a temple of Lord Buddha and residential quarters for the monks. Also known as Gentse Gaden Rabgyel Lling Monastery, it is one of the most important centers of the Lamaistic faith of Mahayana Buddhism.