Itanagar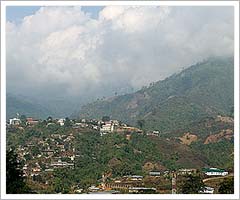 Located in India's extreme east, Itanagar is the capital of Arunachal Pradesh. Also known as the 'Land of the Dawn lit Mountains', Itanagar is spread over an area of 2,500 acres. Perched on top of low flat hills, Itanagar offers a serene ambience and has a lovely climate. The capital city is divided into two parts-each 10 kms apart from the other. The older one has been named Naharlagun. There is a significant influence of Tibetan culture in Itanagar. It borders Tibet, China, Bhutan and Myanamar.There is five major rivers-kameng, Subansiri, Siang, Lohit and Tirap which go on to form one of the prime rivers in the world, the mighty Brahmaputra.

The yellow-roofed Buddhist temple atop a small hillock is among the best attractions of picturesque Itanagar. The temple is surrounded by well-maintained gardens. The main shrine is located behind the Stupa. The Dalai Lama has planted a tree here during his visit to the temple. The residence of the Governor of the state is near the temple.
Gayker Sinyi also known as the Ganga Lake, this is a small lake situated in the midst of dense forests on the outskirts of Itanagar. It is a popular picnic spot where many varieties of orchids remain in full bloom.
Jawarhlal Nehru museum has an impressive collection of tribal art, instruments and religious objects. A visit to the museum is very educative as one can understand the socio-cultural heritage and lifestyle of the people of Arunachal Pradesh from the objects stored in the museum.
There are many beautiful places in Arunachal Pradesh that can be approached from Itanagar. River rafting can also be undertaken in nearby places like Kameng, Subansiri, Siang and Dibang.