Pasighat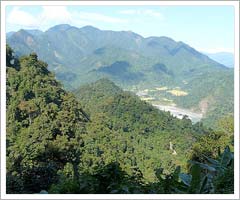 Pasighat is the oldest town of Arunachal Pradesh established in 1911 and the present headquarter of the East Siang district. On the eastern side of Assam, Pasighat is the gateway of Arunachal Pradesh for those who wish to travel to the Siang District or even to unexplored Gelling which is the confluence point of River Sangpo and Siang. Adi Tribe during the time of separation these people created their own communities and the Adis were divided into many sub tribes. Minyong is one of the major sub tribes of Adi and Pangin is one of the largest villages of Adi Minyong People. These are Animists in religion and they worship the Sun and the Moon. Cultivation of rice, plantation of Orange and Pineapple, Piggery etc. are some of the sources of income for these people.




Pasighat in Arunachal Pradesh is the oldest town of Arunachal Pradesh established in 1911. From Pasighat, there are numerous places of interest that can be visited in Arunachal Pradesh. Pashighat derives its name from the 'Pasis', a tribe of the area.




The Adis have two main divisions .Under both the tribes there are a number of sub-tribes. The Minyongs, Karkos, Shimongs, Bomdo, Janbos, Paggis, so on from one group; while the group forms another group of Adis. The Adis by nature are democratic and posses organized village council called Kebang. Their traditional dance called Ponung is famous in the whole of Arunachal Pradesh. Adi villages are mostly located on the spurs of hills. Adi women are very good weavers and weave cloth with exquisitely artistic designs.




Pasighat town is situated at a height of 155 m. from the sea level. The climate of Pashighat Arunachal Pradesh is hot and humid in summers and temperate during winters. Pasighat and its nearby areas can justly be termed as the heart of Arunachal Pradesh because of their central location in the state. With its breathtaking hillside and lush-green river valleys domesticated by a galaxy of tribes, the area is a tourist's enchantment and photographers ecstasy.


Pasighat is situated at the right bank of river Siang (name given to Brahmaputra in Arunachal). The place worth a visit here would be the Lali Wildlife Sanctuary where one can find in plenty the wild buffalo, tiger, samber and deer. One can also take a glance of the famous Ponnung Dance of the Adis, and see the emporium and villages. Languages spoken here are Adi (Gallong), Hindi, Assamese and English.