Tawang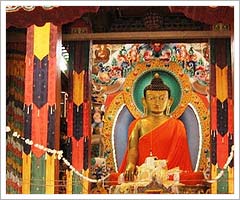 Tawang is well connected to Tibet in the north by the Bum La and Tulung La passes.Tawang is an important centre of Buddhist learning and is particularly famous for its 400 year old Gompa, one of the best known in India. The Tawang Gompa houses a beautifully gild 8 metre high statue of the Buddha and a number of equally remarkable idols and murals.




To the south of the town, the Tawanchu River carves a deep defile as it rages by, while jagged cliffs rise steeply towards the north and snow capped peaks frame the east. To the west of town, the Tawang monastery looms across the horizon, its massive yellow roof and white walls standing out like a guiding light for miles on end.




The Tawang Gompa on the brink of a 2760 m high ridge with a powerful view of the splendid valleys beyond. The gompa, also called the Galden Namgyal Lhatse, is a famous Mahayana monastery established in 1643-47 by Lodre Gyaltso, who was popularly called Meera Lama. The name of Tawang means "horse chosen," a reference to the way in which Meera Lama's horse wandered off on its own and discovered the perfect spot on which the monastery now stands.




The 3 storey, equipped monastery is over 140 square metres and has 65 residential buildings, chortles, lanes and by-lanes. The Duknang or main assembly hall has Buddha statues in various poses, while the Parkhang hall lodges the library, with a wealth of Thangka-manuscripts and sanctified books. Some of the precious manuscripts have been penned in gold and are quite a treasure to behold!




Five hundred monks live in the gompa, chanting, praying, meditating and preaching Buddhism. The monastery attracts scholars and pilgrims from all over the world. In spite of being a peaceful and solitary retreat, the Tawang Gompa buzzes with activity and its craft centre produces intricately woven carpets. The Dalai Lama renovated the entire monastery in 1997.


The monastery also has a Centre for Buddhist Cultural Studies, the place, where young monks are taught Arithmetic, English, and Hindi besides traditional monastic education.