Dirang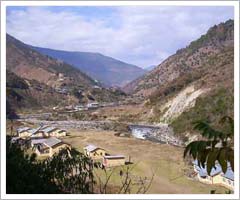 Dirang is an ideal getaway in West Kameng district with beautiful apple orchards and sheep breeding farms. Also nearby are hot-springs, where people go for holy dips. The languages spoken here are Monpa, Hindi, Assamese and English.




The Hidden Paradise or Land of Dawn-lit mountains; this land evokes images of breathtaking mountain views, remote hamlets, appealing and sleepy villages, magical Gompas, tranquil lakes and lot more. At Tawang, you have a heavenly assignation with nature at its best and the heady mixture of history, religion and legends.




The inhabitants of the districts are all of Monpa tribes. The Monpas belong to Mongoloid stock, are well built, and fair in complexion. Their houses are built with stones and timbers. Agriculture and Animal Husbandry are the fundamental means of the Monpas occupation.


Dirang is nestling in the womb of Buddhism; Dirang is dotted with Kalchakra monasteries and 'Gompas'. The gurgling waters of the nearby hot springs have medicinal value. This monastery is the fountain-head of the spiritual life of the Gelupa Sect of the Mahayana School of Buddhism. The assembly hall is painted with murals of various divinities and saints. An immensely rich - gilded statue of Lord Buddha occupies the middle of the northern side. It is the largest image of the monastery and is about 26 feet high.