Hill Station - Zero / Ziro, Pasighat, Along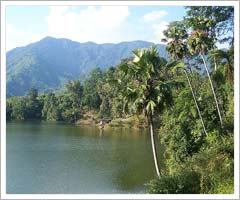 The high town is almost a level valley enclosed on all sides by pine-clad low stooping hills. This area, also called Apatani Plateau, is famous for Paddy-cum-Fish culture. It is the part of the beautiful whole of nature. This place also comprise of the quietly flowing rivers of Subansiri, Nishi, Apatani, Dafla and Miri.
The Apatani Tribal
Zero/Ziro is the land of Apatani tribal who are fond of hunting and whiz cultivation is their prime profession. Apatani tribal are known for their handsome and beautiful looks. Local wine 'Apang' is their favourite drink. They are equally fond of colourful dresses, with specialties and varieties. Women-folk love to draw tattoo on foreheads and cheeks, and wear on cane nose pins. They believe they are the descendents of first man and woman - 'Aro', 'Tani', 'Doyni' and 'Polo'. Ziro is a small picturesque destination with Pine and Bamboo groves, villages, a craft centre and Tarin Fish Farm.
Pasighat in Arunachal Pradesh is the oldest town of Arunachal Pradesh established in 1911. At Present, it is the headquarter of the East Siang district. Pasighat in Arunachal Pradesh has been often called the 'gateway to the state of Arunachal Pradesh'. From Pasighat, there are plentiful places of interest that can be visited in Arunachal Pradesh. Pashighat derives its name from the 'Pasis', a tribe of the area.
The climate of Pashighat Arunachal Pradesh is hot and humid in summers and mild during winters. Pasighat and its nearby areas can justly be termed as the heart of Arunachal Pradesh because of their central location in the state. With its incredible hillside and lush-green river valleys reclaimed by a galaxy of tribes, the area is a tourist's delight and photographers paradise.
Along in the West Siang district of Arunachal Pradesh located at an altitude of 300 m from the sea level amidst abundant natural surroundings, Along in Arunachal Pradesh is a small town with beautiful villages. Along in Arunachal Pradesh is a most ideal place to spend the hot summer seasons. The scenic surroundings are laced with brilliant plantations.
Along in Arunachal Pradesh is inhabited by Adi (Gallong) tribes. Adi has different sub tribe, which differs from each other's like Adi (Gallong, Minyong, Pasi, Padam, Bori, and Bokar)
Sightseeing in Along
Ramakrishna Ashram
A nice place to visit in Along. The place provides items related to Ramakrishna Paramahansa, Ma Sharada and Swami Vivekananda.
Hanging Bridge
Hanging bridge on the Siang River is another thing to see at Along. This bridge is local made of cane and bamboo. The bridge is around 60 to 70 m long connecting to the others hill tribes, fishing is the main sport for these tribe.