Adventure and Sports - Trekking, River Rafting, Fishing & Angling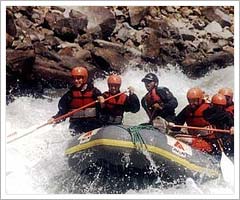 For the wonderful experience of trekking, there are a few destinations in the world that would match the trekking routes of Arunachal Pradesh. The best trekking season in Arunachal Pradesh is from October to February.


Rafting and Angling in Arunachal Pradesh

The mighty Brahmaputra cascading down the heights of elephantine beauty across Tibet into the north-eastern state of Arunachal Pradesh is an exciting experience for the river rafters. Though inaccessible, Arunachal Pradesh is the ultimate destination; a rafter can look forward to.

Rafting and Angling are the adventure sports, popular in Arunachal Pradesh. The mountainous routes follow the river system except in places where the mountainsides are very precipitous, this gives rise to ample opportunities for adventure sports. Try River Rafting along Kameng (Seppa- Bhalukpung), Subansiri (Taliha- North of Daporijo), Siang (entire course), and Dibang (Anini- Assam Border).




Fishing and Angling in Arunachal Pradesh

Fishing & Angling is a very enjoyable sport, Fishing & Angling is a eco-friendly sport, but at the same time very time consuming. With numerous rivers, streams in the state, there are numerous opportunities available for anglers to opt for Fishing and Angling. Hardly any anglers round the world have any idea that India makes a wonderful paradise for anglers.

The abundance of water and the simplicity of the sport have helped the sport to grow in Arunachal Pradesh India. Arunachal Pradesh offers numerous possibilities to catch fish especially trout and Mahseer.

The cold water of the higher reaches of Arunachal have the golden and the rainbow trout and anglers can easily enjoy the traditional but effective methods of fishing while trekking in the jungles of Arunachal Pradesh.




Trekking in Arunachal Pradesh

The journey to the extreme north eastern part of India is grueling and extremely adventurous in its nature. Trekking through the challenging terrains of Arunachal Pradesh with outstanding stock of varied botanical species is purely unique and breath-holding. The route to each trek is a quite inimitable experience.

Arunachal Pradesh - the extreme north eastern state of India is one of the most unexplored areas of the Himalayas. This green square of India is botanically rich and complete with trekking opportunities and hundreds of plant species, rare to find elsewhere in the world. The tropical and semi tropical climate of the area has favoured in the growth of a spectacular range of plantations.

Enjoy trekking in Arunachal Pradesh India, a rare wilderness experience in the world. The major trekking routes include Se La Pass and Margherita railhead. In addition to this there are inexhaustible other trekking routes that have been recently opened for the trekking enthusiasts. For a driving and intrepid leisure seeker, few destinations in the world would match the magnitude of Arunachal Pradesh.