Art and Craft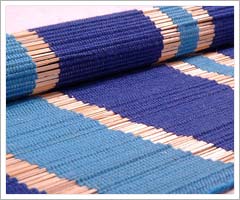 Arunachal Pradesh bears a statement to an extravagant history of art and craft. The tribal people reveal poise in this field.




Weaving is the universal craft in this region as in other parts of northeast India, with beautiful and highly coloured fabrics being made largely by women. The handicrafts of the state include a wide variety in weaving, painting, pottery, basketry and wood carving. The tribals make exquisite carpets, paintings on wooden vessels and silver articles. The Buddhist community design carpets with striking designs. Other items are horn, brass and semi precious stones.




The use of permanent natural dyes by the people makes their crafts even more popular. The original designs with lasting hues and rare combination of floral, geometrical and also simple plain, give effect to inimitable and aesthetic fabrics. The products include Sherdukpean shawls, Apatam jackets and scarves. Adi skirts, jackets and bags, Mishmi Shawls, blouses, jackets etc.




People of Arunachal also work on cane and bamboo, though to a smaller extent. The Monpas and Khamptis practice the art of woodcarving. They produce many kaleidoscopic toys and figures denoting great imagination in this elephant bound state. They also make variety of utensils. Other craftsmanship includes multicoloured beads, paper making, carpentry, pottery and ivory work which are all a source of feast to the tourists, who are allured by these masterpieces of Arunachal Pradesh. They are also an inexhaustible source of income for the state.




The mastery in art and craft in Arunachal are passed down from one generation to the other. Other crafts include making religious images, figures of dancers, toys, and ornaments like multicolored beads, bamboo bangles and earrings, and papers for religious prayers.




The unique and artistic native wood carving articles are famous. The unique beads ornaments and grass necklace products are mainly available in Tirap & Changlang districts which signify higher cultural and Traditional value. Making of grass necklace by female folk of Wangcho tribe of Tirap District is very unusual. The main raw-material used in a kind of reed, grown near stream and river side during September to February. The skin of the reed is of golden colour.


The traditional Cane Bamboo products are mainly available in the Districts of East Kameng, Papumpare, Changlang, Upper and Lower Subansiri, which represents high finest design, quality. The famous cane cap and head gear are available for different tribe of the State. Carrying basket, marketing basket, Cane chair, Cane Table, Cane Racks, Cane Cradle, and Designer Cane Tray etc. are available.