Along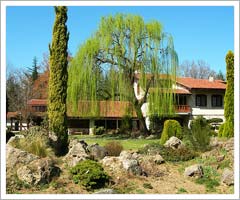 Along the headquarter of West Siang district of Arunachal Pradesh located at an altitude of 300 m from the sea level. Sitting amidst abundant natural surroundings, Along in Arunachal Pradesh is a small town with beautiful villages. Along, Arunachal Pradesh is a most ideal place to spend the hot summer seasons. The picturesque surroundings laced with brilliant plantations makes Along in Arunachal one of the most perfect health resorts of India. The places one can visit at Along are the Mithun and Jersey Cross Breeding Farm at Kamaki 25 kms away from Along.




Along in Arunachal Pradesh is inhabited by Adi (Gallong) tribes. Adi has different sub tribe, which differs from each other's like Adi (Gallong, Minyong, Pasi, Padam, Bori, and Bokar). One can visit to Jirdin, Kabu, Kaying villages, this will provide you an imminent into the cultural of the people of Along in Arunachal Pradesh India.




Of the indigenous Arunachalee today there are several religious groups. There are the animatist/naturistic religions, Buddhist tribes, Hindu tribes, some Christians and a petite minority of Muslims

Buddhism of both the Mahayana and Hinayana sect is practiced among the tribes of Tawang and West Kameng, West Siang and Lohit. The centre of Mahayana Buddhism in Arunachal is Tawang monastery. The Hinayana sect has its headquarters at Chowkam. These Buddhist tribes have a written history and set places of worship.


Those tribes following an animistic tradition tend, within the different systems of belief, to involve one supreme high god or supernatural being plus a host of other spirits and deities. This can involve the dual existence of a high god in the sky and another high god on the earth. The high god is always believed to be benevolent, while the ground dwelling spirits are both malevolent and benevolent. An absolute belief in the qualities and powers of the gods has, like the unchallengeable cultural and social rules of the tribe.

The Membas are found along the northern border of Upper Siang district. They are by religion Buddhist.

To the north along the banks of the Sipi river extends the country of the TAGINS. They are also sometimes known as Moyas because of their preference for the shady mountain for their villages. Agriculture is their main occupation. They are known for their artistry in carpet weaving and making painted wooden vessels. Beautiful rugs are also woven in the area. Vivid colours and exquisite patterns are the hallmark of their weaving.

Apatanis, Hills Miris and Adis make attractive articles in cane and bamboo. The Wanchos are famous for their wood and bamboo carved porcelain. They also make intricate necklaces of colourful beads, the width of which indicate the status of the person they embellish.