Daporizo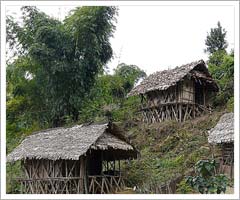 Daporijo is the headquarter of the Upper Subansiri district of Arunachal Pradesh located at an altitude of 600m is an inhabitant of Tagin tribe, theirs faces which resembles to Chinese. Interface with Tagins, Hill Miris and the Tamens who have their dwellings in villages between Along and Damporizo.


The Tagins are the main inhabitants of Upper Sunansiri district. Their major occupation is agriculture. Polygamy is customary among them. Their dress is very simple consisting of only one piece of cloth. The Nyishi and Tamens are among the main Hill Miri tribes who form the largest groups of people inhabiting the major part of Lower Subansiri district.




Their men folk keep their hair long and tie it in a knot just above the forehead. They wear cane bands around the waist. They believe that after death the spirit of a dead travels to the 'village of the ancestors'. The Sulungs or Puroik are considered to be one of the oldest of the tribes in the area. Their dress and costumes are simple, and the religion is a form of the primordial ' spirit culture.'




Arunachal Pradesh, the northern-most state of India. It is the homeland of a number of tribes and sub-tribes. The state is a canvas of colourful communities with their habitats amid the lofty sierra, dense forests and roaring rivers with variegated socio-cultural milieu with a congregation of diversified socio-religious beliefs and practices. Such societies are of massive anthropological interest.




Daporijo had a population of 15,468. Males constitute 52% of the population and females 48%. Daporijo has an average literacy rate of 59%, lower than the national average of 59.5%: male literacy is 66% and, female literacy is 51%. In Daporijo, 19% of the population is under 6 years of age. Inhabitants of Daporijo belong to the Tagin refers to a tribe of Arunachal Pradesh which is a member of the larger designation of Tani tribes. Most Tagins are concentrated in Daporijo but some are also found in adjoining parts West Siang.In 1971, about 20,000 claim to be of Tagin ethnicity. Tagins are generally adherents of Donyi Polo although two groups of Tagin–the Nga and Mara have come under the influence of Tibetan Buddhism. The most important festival of the Tagins, Si-Donyi, involves the veneration of the sun and the moon.


High mountain and dense forest have prevented inter communication between tribes living in different valleys; isolation forced by geography has led over twenty six major tribe with several dialects to live and burgeon with their distinct identities. Festivals are essential part of the socio-cultural life of the tribes of the Arunachal Pradesh. The festival having connection with agricultural and celebrated with ritualistic joviality either thank to the god for the providence or to pray for bumper harvest.