Bhismaknagar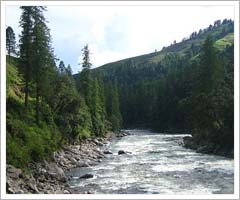 Bhismaknagar is a sacred heritage site of the Idu Mishmis who belong to one of the primitive tribal communities of Arunachal Pradesh. Bhismaknagar of Arunachal Pradesh is situated in the Dibang. This district holds the glory of an apparently standard civilization of the past decades of Arunachal Pradesh. Bhismaknagar stands for what is best in the tribal and Aryans way of life. It speaks for the Catholic spirit of the ancient Indians.




It is believed that during 12th to16th centuries BC, Bhismaknagar in Arunachal Pradesh was under the hold of the Chutiyas. The quarry of this town in the later periods has brought some new story about this city. The relic talks about the introduction of mock foundation in India by the Idus tribe and also upholds the hold of the Catholic spirits in the Easter years.




Bhismaknagar is a hill fort made of burnt bricks situated in Roing, a small town in Lower Dibang. The fort, built with clay bricks and embellished with pottery, has an elongated semi circular shape extending over an area of about 10 sq km. The Bhismaknagar Fort, which was first excavated in 1996-1997, is proof of the penetration of the Aryan culture into Arunachal Pradesh in the 4th century.


Today Bhismaknagar has become the nub of resurgence a determination of a sturdy race to revive its traditional culture, while accepting everything that is progressive.