Akashiganga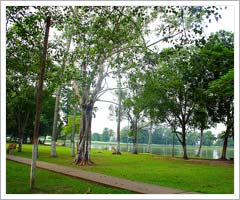 Akashiganga is believed to be associated with the legend of Parvati which is narrated in the 8th century. It is said that Lord Shankar wandered in the sky with the dead body of Parvati (Sati). To bring him out of at cataclysm for the dead body Lord Vishnu using his "Sudarshan Chakra" cut the body into pieces. During this process it is said that one of the piece from the body fell in the area which is 12 km from Malinithan towards Along in west Siang District. This place is called Akasiganga and is very popular as a sacred place. There is a temple near the road. From there one has to go down 100 meters down through a spiral path, where a sparkling object can be seen in the 'Kund' but on going more down the object is invisible. Devotees take bath in this Kund. The place also provides a magnificent bird's eye vision of the Brahmaputra River spark far below.
It is one of the most significant pilgrim points in the north eastern India. The place is associated with the legend of Sati, who was the consort of Lord Shankar, as told in the 8th century Kalika Purana.

Akashiganga in the Nagaon district. It is about 50-km, southeast of Nagaon town. Akashiganga contains a supercilious waterfall. At the foot of this waterfall, scattered ruins from stone temples can be seen. Most of the carved components from these ruins have been shifted to the archaeological garden near it..
Akashiganga is known for its picturesque beauty. Tourists throng it in winter. It is also a place of pilgrimage and modern temples have sprung up at this place, which are visited by devotees all the year around. Akashiganga also witness wild-elephant peril seasonally every year.