Mahasamund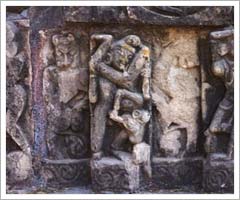 Mahasamund, in Chhattisgarh, is a booming hub of rich natural resources. It hosts abounding reserves of limestone, dolerite, granite and quartz. It is undoubtedly a growing foremost mining region with a promising future.
The chief attractions of this place are:
Laxman Temple – This is considered to be one of the most excellent brick temples of India, with fine carvings and accurate structure. Various symbols and carvings on the walls on either side depict tales and events related to Hindu mythology and Gods like Lord Vishnu, Shiva and Krishna. The temple has a shelter (mandap), passage (antraal) and the main house (garbha griha).It also has a unique collection of figurines and relics related to Jainism, Buddhism, Shaiva and Vaishnava.
Sirpur – Historically noteworthy in the fields of religion, spirituality, art as well as science, this abode of Buddhist Vihars lie on the banks of the holy river, Mahanadi. The place was known as Shripur in ancient eras and was the capital of South Kosala.
Gandheshwar Temple – An ancient, arty Shiva temple constructed on the banks of river Mahanadi was built from the remnants of the old vihars and temples. The entrance is decked with glimpses of Shiva Leela. Inside it there are statues of the various incarnations of Lord Shiva, Lord Vishnu and a statue of Buddha touching the earth.
Anand Prabhu Kudi Vihar - It is a 14 room Buddhist vihar built by the ardent follower of Lord Buddha, Bhikshu Anand Prabhu, during the reign of Mahashivgupt Balarjun.
Swastik Vihar – Another Buddhist Vihar which has been unearthed in recent times. It is believed to have been used by the Buddhist preachers for study and meditation.