Jashpur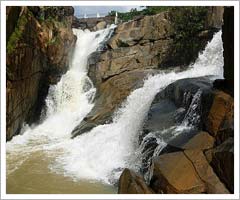 This town is located to the north of Chhattisgarh. There are quite a number of Christian missionaries who have taken the initiative of the literacy campaign for the local residents, especially the tribal communities. Jashpur takes pride in its natural vista – the lush green woods, cluster of hills, soothing surroundings with a rich bequest of flora and fauna and above all, the tribal societies dwelling in this area. It is mainly a tribal inhabited area who leads their lives in traditional styles. These tribal societies comprise the segment of people who understand the meaning of living together and join hands to work together to achieve any shared interest to cater to the needs of their society. Every society has its own set of rules with respect to business and commerce. These augment and strengthen their unity to live and toil collectively as one. The tribal groups although have undertaken various forms of odd jobs at present, yet their basic livelihood depend on hunting and cultivation. In the past eras, the tribal land areas were never analyzed and they did not lead a settled life. The tribal people carried out shifting cultivation, taking into consideration that they were the possessors of the natural resources like the river water, forest trees and the lush green lands. This practice of self cultivation still continues in the contemporary times. The chief tribal community found here is the Oraon tribe. The major attractions of the place are:
Rajpuri waterfall - A perennial waterfall and a well-liked picnic hub.
Kailash Gupha – It is a beautiful rock cut cave aided with springs and fountains with the Samarbar Sanskrit Mahavidyalay, the second Sanskrit Vidyalaya/ school, which is attended by the local tribal children.
Kotebira Eb River – It is a meandering river with a pleasing landscape. It is a rock-strewn area and the ending point of the hill ranges. An annual fair is organized in this place every year.
Kunkuri Cathedral – It is Asia's second largest Catholic Church, located 40 kilometres from Jashpur.
Danpuri Waterfall - It is a natural cascade amidst the forest region.
Ranidah Waterfall - A pictographic waterfall and a common picnic hub.