Events and Festivals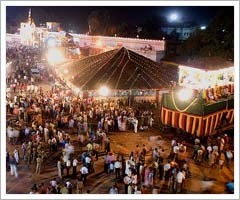 Few of the remarkable festivals celebrated by the tribal societies comprises Bastar Dussera, Bastar Lokotsav, Koriya Mela, Fagun Wadai, Champaran Mela, Madai Festival, Goncha Festival, Pola Festival, Hareli Festival, Narayanpur Mela, Bhoramdeo Festival, Teeja Festival and others.
Bastar Dussera – It is believed to have been initiated by Maharaj Purushottam Deo, the fourth Kakatiya leader, in the 15th century. The tribes observe Dussera as a congregation of Devi Maoli (supposed to be the elder sister of Devi Dhanteshwari, the goddess of the Kakatiya clan) along with all her sisters.
Bastar Lokotsav – This event is an extension of Bastar Dussera and takes place more or less during the same time of the year, extending for a fortnight. It gives a highlight of the preeminent features of Bastar which include its natural beauty as well as fantastic and fine art and craft works.
Fagun Wadai – This commences seven or eight days before Holi and ends a few days after it, the major attractions being the idols and the dances centered on different folk and tribal tales.
Madai Festival – It is celebrated by the tribal communities of Bastar, Kanker and Dante Wada from December to March every year. The ceremony is celebrated in a large compound which begins with a procession of the local deities followed by the rituals, food and cultural extravaganza.
Narayanpur Mela – This is a fair manifested by celebrations and worship of deities by the tribal families, in the month of February, after Jagdalpur Dussera.
Bhoramdeo Festival – It is the annual festival of the brilliantly constructed Bhoramdeo Temples in the Satpura hills on the river banks of Sankari by King RamChandra of the Nag dynasty.
Koriya Mela – It is a traditional fair followed till date, initiated by Ramanuj Pratap Sigh Judeo, the monarch of Koriya State.
Goncha Festival – Goncha is actually a kind of pistol made of bamboo. This festival is celebrated during the time of Ratha Yatra in Jagdalpur, where people shoot at one another in amusement with a goncha and tukki (a fruit used as a bullet).
Champaran Mela – Commemorating the birth of Mahaprabhu Vallabhacharya, this fair highlights the splendid cultural lineage of the area and basically witnesses a large gathering of the Vaishnavas from every nook and corner of India. It is generally held in the months of January and February in a small town located 10 kilometres from Rajim.
Maati Ti'aar - It is a festival devoted to the bounties of Mother Earth where the seasonal seeds preserved for sowing are fertilized through rituals and sacrificial blood. It is normally observed during Chait Navratri in March-April.
Hareli Festival – This festival is commonly observed by the farmers in the month of Shravan, by praying for their farm tools and cows, thus imploring for a good harvest.
The First Fruits Festival – As obvious from the name, it is celebrated to mark the occasions of rich harvests – frits, crops and grains.
Parad is another festival alike celebrated for annual hunting mission.