Tribal Art and Craft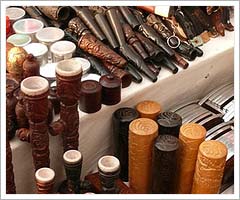 The tribal societies of the state of Chhattisgarh inherit a rich cultural heritage. They are also considered to be good artisans and craftsmen. Attractive decorative items and idols carved on wood, clay samples, terracotta work and exquisite bamboo furniture stand as outstanding examples of their handicrafts.


Even the tribal women population is also not left far behind in this field as they equally contribute in the work of various handicrafts. They get wings to their flight of fantasy through the medium of art and craft. Their rich handicrafts help one to envisage their artistic susceptibility and creative nature. It gives an insight to their absolute sense of various geometrical measurements and attractive colour combinations. They exhibit their emotions through the medium of creations or namely, art and craft – their happiness and pathos, their cravings and yearnings, their passion and lifestyle, their fondness for nature and outlook towards the human society. The varied human sentiments are revealed through their vivid work of fine arts. Their dexterity in this subject is revealed in their apparels and curios, pieces for decorations, wall paintings, wooden carvings. The preeminent examples of their artistic caliber can be witnessed from the exquisite wall paintings and hangings, the flower-patterned designs, the various figures of plants and animals depicting geometrical patterns, decorations and the wall paintings displaying multi-speckled designs and statures of worldly figures are worth appreciation. The women folks also freak and enjoy on using various forms of knick-knacks which enhance their natural beauty. These women, supposed to be primordial, appear exquisite togged up in grass made headgears and ornaments made of beads and brass. All these wide range of art and craft work are testimonies of their crude and rare aesthetic intuit.