Durg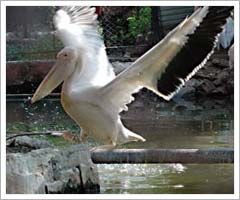 Durg, the original name being Shiva Durg, is located in the south-west sector of the state of Chhattisgarh, approximately 35 kilometres away from the state capital, Raipur. It is on the whole in the plain region with abounding mineral resources and wooded areas.
Major attractions of the place are:
Maitry Baugh - It is predominantly a children's park in conjunction with a zoo, managed by the Bhillai Steel Plant Management. The beautiful recreational area is dressed up with a musical fountain and enjoys an annual flower show every here. The prime attraction of here is to witness the white tigers.
Bhillai Steel Plant - This unit was primarily set up with Soviet partnership in the year 1959, as a first step taken by independent India towards industrialization. Being a major exporter of steel, it mainly produces rails, wire rods, plates and structural wares.
Uwasaggaharam Parshwa Teerth - Situated on the banks of the Sheonath River, it is a Jain temple in Nagpura built in 1995 after Shri Parshwanath. It has temples, a decked up garden, guest houses and Naturopathy and Yoga Centre within the premises.
Ganga Maiya Temple - It is located about 58 kilometres from Durg, at a place called Jhalmala. The cultural activities of the villagers revolve round the temple.