Kanker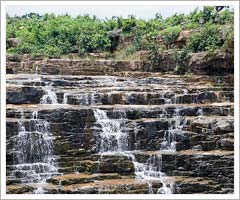 Kanker lies between the state capital of Chhattisgarh, Raipur and a place called Jagdalpur, located about 160 kilometres away from the latter. Kanker has a great historical significance. It has a reference in the age old epics of Ramayana and Mahabharata as the Dandakaranya forest region. It was supposed to be a centre for Buddhism in the 6th century BC. Later it was ruled by Satavahanas, Nagas, Vakataks, Guptas, Nal and Chalukya rulers. During those eras, the realm extended to the areas which has outlined as the present days' Maharashtra and Orissa. Kanker has a picturesque landscape with numerous hillocks and five rivers meandering through it, namely the Doodh, Hatkul, Sindur, Mahanadi and Turu. The Kanker tribes are well reputed for their excellent handicraft works.

The Major Attractions of this place are:
Charre-Marre Waterfall – This 16 metre high serpentine waterfall is on the Jogi River, seen on the way to Aamabera, about 17 kilometres away from Antagarh.
Madai Festival - It is celebrated by the tribal communities of Bastar, Kanker and Dantewada from December to March every year. The ceremony is celebrated in a large compound which begins with a procession of the local deities followed by the rituals, food and cultural extravaganza.
Malanjhkudum Waterfall – It is situated on the Doodh River, approximately 15 kilometres from Kanker. It is an attractive tourist spot for sightseers. It is a amalgamation of three falls, 10, 15 and 9 metres high respectively.
Gadiya Mountain – It is a fort shaped mountain having a tank called Sonai-Rupai (named after the daughters of Kandra King Dharma Deva, who was the founder of the mountain capital), which never dries up. People flock in here during Shiva Ratri for worship and celebrations.
Shivani Temple - This temple houses a single statue of half Goddess Durga and the other half of Goddess Kali. Navaratri festivals are celebrated here with verve and fervour.