Orissa Wildlife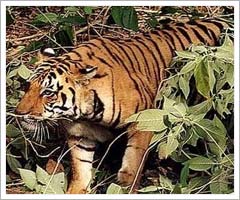 Orissa is blessed with extensive stretch of thick foliage and environmental topography which have proffered a shielded, as well as unadulterated haunt, to the state's treasured wildlife. Some of the distinguished natural habitats where tourists can go and savour the beauty and endowment of nature are Nandan Kanan, Similipal Tiger Reserve and Bhitarkanika Sanctuary.
Nandan Kanan
The sanctuary cum botanical garden of Nandan Kanan is located near Bhubaneshwar. It is enveloped in the exquisite ambience of the Chandaka forest near the Kanjia Lake. It is renowned for its white tigers, their current number being 34. This Garden of Gods, as the name suggests, is a hot spot for tourists where they enjoy witnessing the various rare animals and birds like the Asiatic lions, Indian crocodiles, Nilgiri langur, Indian pangolin, Shanghai lion-tailed macaque, reserved in the lap of natural – 67 kinds of mammals, 18 forms of reptiles, 81 varieties of birds and 34 aquaria hosting a wide variety of fishes!
Similipal Tiger Reserve:
Similipal Tiger Reserve is a tourist's paradise. Set in a dense, lush green shrub border with torrential waterfalls, cold rivulets and high mountain peaks, it is a perfect home to the wild animal world. It covers a region of approximately 2750 kilometres. The main aim for setting up this reserve area was to conserve the diminishing number of tiger population. Apart from more than 95 tigers, there are also leopards, crocodiles, elephants, various reptiles and over 231 species of birds living together in this forest.
Bhitarkanika Sanctuary:
This sanctuary is sited in the second largest mangrove forest in India. It has been the abode of the estuarine crocodiles since the year 1975. There is also a crocodile breeding farm at Dangmal where the white crocodile (a rare species in the world), Sankhua, is found.  It lies in the coastal region of Gahirmatha where one can come across the giant Pacific Ridley sea turtles which are specially safeguarded from the local folks. Animals and reptiles like spotted deer, sambars, Rhesus monkeys, wild pigs, pythons and king Cobra are also seen here. Birds like Whistling Teals, Sea Gulls, Darters, Storks and Sea Eagles augment the splendor of the sanctuary.