Dhauli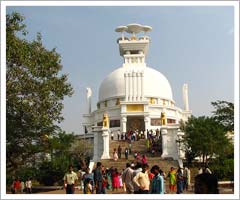 Dhauli is basically the spot where, the diktats of the king Ashoka engraved on rocks, dating back to 260 BC are assembled together. The rocky projection on the Dhauli hill situated at the river bank of the Daya River is eight kilometres south of Bhubaneshwar.
These Orissan edicts were, for all intents and purposes, civic instructions towards the emperor's official bureaucrats, soliciting them to administrate the kingdom with kindness and integrity. To quote, '………these are my instructions to you. You are in charge of many thousands of living beings. You should gain the affection of men. All men are my children, and as I desire for my children that they should obtain welfare and happiness both in this world and the next, the same do I desire for all men…'


The figure of the elephant witnessed above the message was perhaps intended to draw awareness to the edict as well as serve as an icon. Enthused by the tranquility of the surroundings and the prevailing Buddhism, the Kalinga Nippon Buddha Sangha, under the supervision of Guruji Fujii – the first President of Nipponzan of Japan instituted a Peace Pagoda or Shanti Stupa at Dhauli along with the set up of the Buddhist monastery named Saddharma Vihar in the early seventies. Other than these prime features, Dhauli tenders to its visitors small rock etched caves, Hindu temples of the early medieval era and a Shiva temple popularly known as Dhavalesvara situated on top of the mountain entice  one to visit the place.