Saora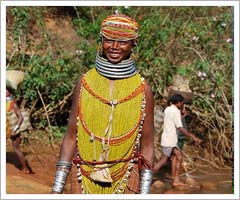 The uniqueness of the state of Orissa is truly maintained by its tribal population. They continue to lead a rustic lifestyle in the lap of nature. These tribal societies embrace the faction of people who understand the meaning of living together and join hands to work together to achieve any shared interest to cater to the benefits of their society. Every society has its own set of rules with respect to business and trade. These enhance and strengthen their unity to live and toil collectively as one. The tribal groups although have undertaken various forms of odd jobs at present, yet their basic livelihood depend on hunting and cultivation. These tribal people are believed to be proficient huntsmen and run an unfettered way of life. The rituals and festivals practiced by the tribal groups are still being followed, respected and nurtured since the distant past to the present day. Although the art of performing the songs and dances differ from one clan to another, yet certain features are generally familiar to all.




The Saora (also called as Sora, Soura, Sabara and Savara) belong to a tribe hailing from southern Orissa. Being the second most eminent tribal society in the district of Rayagada, they are also often identified as Lanjia Souras. This is because of their clothing style where they wear a loin fabric dangling from behind, often mistaken as a tail by any new outsider.




They generally are part of heir extended families known Birinda, comprising of progeny from common antecedents of five to six generations. The Saoras follow an ingrained and intricate religion, having faith in and worshipping a number of Gods and spirits, who they believe are the supreme controllers of their regular life. Their social life revolves around their deep-seated religious practices and viewpoints. They also celebrate a number of festivals.  The personal or domestic affairs include occasions concerning marriage, death or birth of an infant whereas the whole village get together to observe events like rich harvest and mellow fruitfulness. Another very important aspect of their religious side is the practice of various forms of rituals and sacrifices. As they consider every step taken by them is according to the whims and fancies of Gods, even for the simplest activity they first try to mollify the supreme authority. Sacrifices are carried out in the form of cattle forfeiting accompanied by the rites and ceremonies. These religious functions are generally presided over and guided by the religious priests. They hardly ignore a prophecy before undertaking any project.


The Saoras are popular for their economical and political uprightness since the time of the British rule in India and retained its goodwill even post independence.