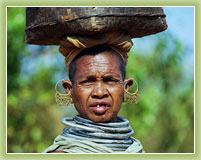 India has the largest concentration tribes after Africa. The various tribes in India have carefully preserved their age-old customs and traditions. The tribal population constitutes a significant portion of almost every Indian state. An entirely distinct culture, costume, language and handicrafts distinguishes one tribe from the other. They occupy the isolated villages of the country. Their lifestyle is conditioned to their surroundings. Every activity, be it food habits, traditions followed, lifestyle holds importance in the lives of these tribals.
Amongst a total of 533 tribes inhabiting India, the major tribal communities are namely Nagas, Mizos, Khasis, Boros and Jaintias. Tribals in the North-east are popular for their peculiar songs, dances, bamboo handicrafts and attires. Tribes in Eastern India namely Lambadas are known for their hand-embroidered costume studded with mirrors. Tribal communities in Central India like Santhals and Bastar stand out with their extra-ordinary traditional dance form. Todas, the tribals in Southern India are known for their pastoral lifestyle and hand-woven clothes.
Head for an Indian Tribal Tour to explore the varied tribal communities that never fail to delight you with their ancient unique traditions. Travel through the unpolluted tracts for a discovery that charms your senses and rejuvenates your soul.